The Wreck & Crash Mail Society
Unidentified Crash & Wreck Covers

The following two covers were on eBay in January 2008. It is quoted exactly as it was described. If anyone has any information about this ship fire, please contact me at:

Opportunity!!!!Navy Post Petrel Base - Mar 26, 2007- Cover survived on a wooden- metallic box found when cleaning detail General -on board post office - on Jul/Aug 2007 after fire of April 2007 -when ship returned to Buenos Aires ending Antarctica Campaign 2006-2007. Piece was posted very delayed to Submarine Force with inscription "Incendio" -"Fire". Some Navy Post was found under a pile of melted stuff on mentioned office -Fire did not access directly to indicated office but burnt on lowest compartment and so temperatures where extremely high on Detail General and a lot of smoke entered. The only thing that survived was mentioned box. Ship was not cleaned immediately due to Legal and Technical Inspections accordingly to Navy Regulations when a ship is crashed-burnt or damaged.
Applied Boxed Irizar Mark and Oval Petrel Base Mark - Mar 26, 2007- Naval Coupon from ECPB - Puerto Belgrano Naval Base. It still has a very strong smoke smell.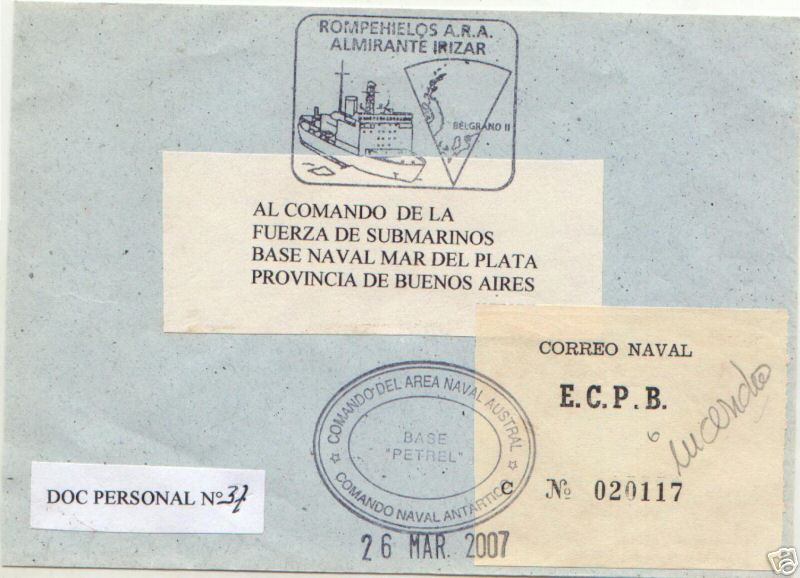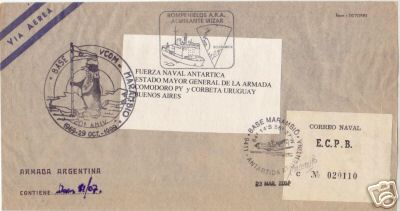 The following items have been received from Hallvard Slettebø in Norway. If anyone has any information, please contact me at the email address shown above.
1940 Unidentified incident Norway-Canada
Cover postmarked "HAUGESUND -5.3.40", addressed to Oslo. Re-directed to
Vancouver, B.C., Canada, on reverse machine cancellation "OSLO -7.3.40". The
stamp has floated off due to immersion in water, and a stamp from another
postal item is affixed (this stamp is postmarked "??ORØ? 28 II 40").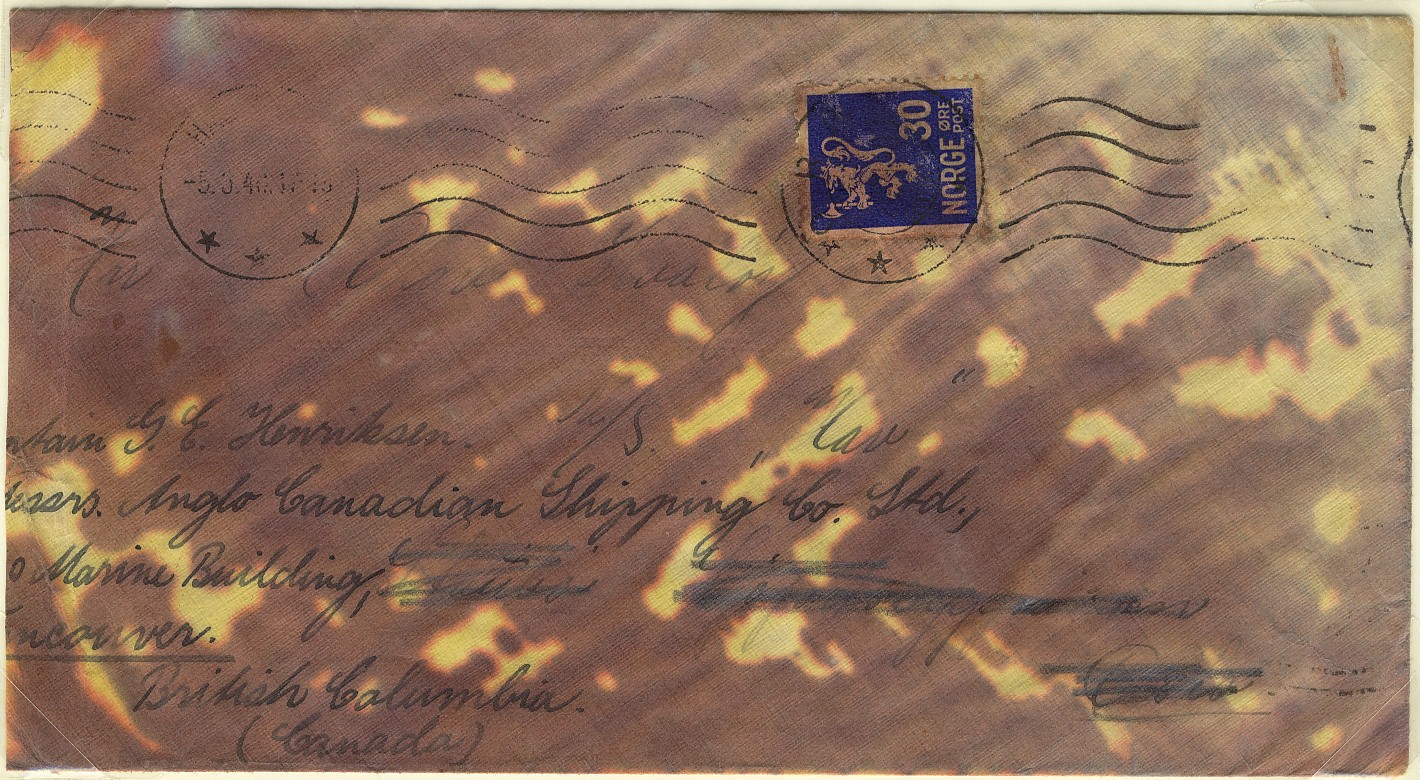 One of the items that I haven't identified has an undated 1969 U.S. machine
cancellation on reverse of a 1968 letter from Norway to North Dakota:
"Delayed by stoppage in steamship operations". What kind of incident was
this? Was it a strike or something?

Cover from Stuttgart, Germany to Oslo, Norway. Damaged in fire while in
transit and stamp floated off. Forwarded to the addressee in an ambulance
envelope "Innlagte brev er skadd under postbehandlingen", which translates
to "Herein an item which was damaged in the mail handling", and postmark
"OSLO ANK. UTLAND -6 5 54".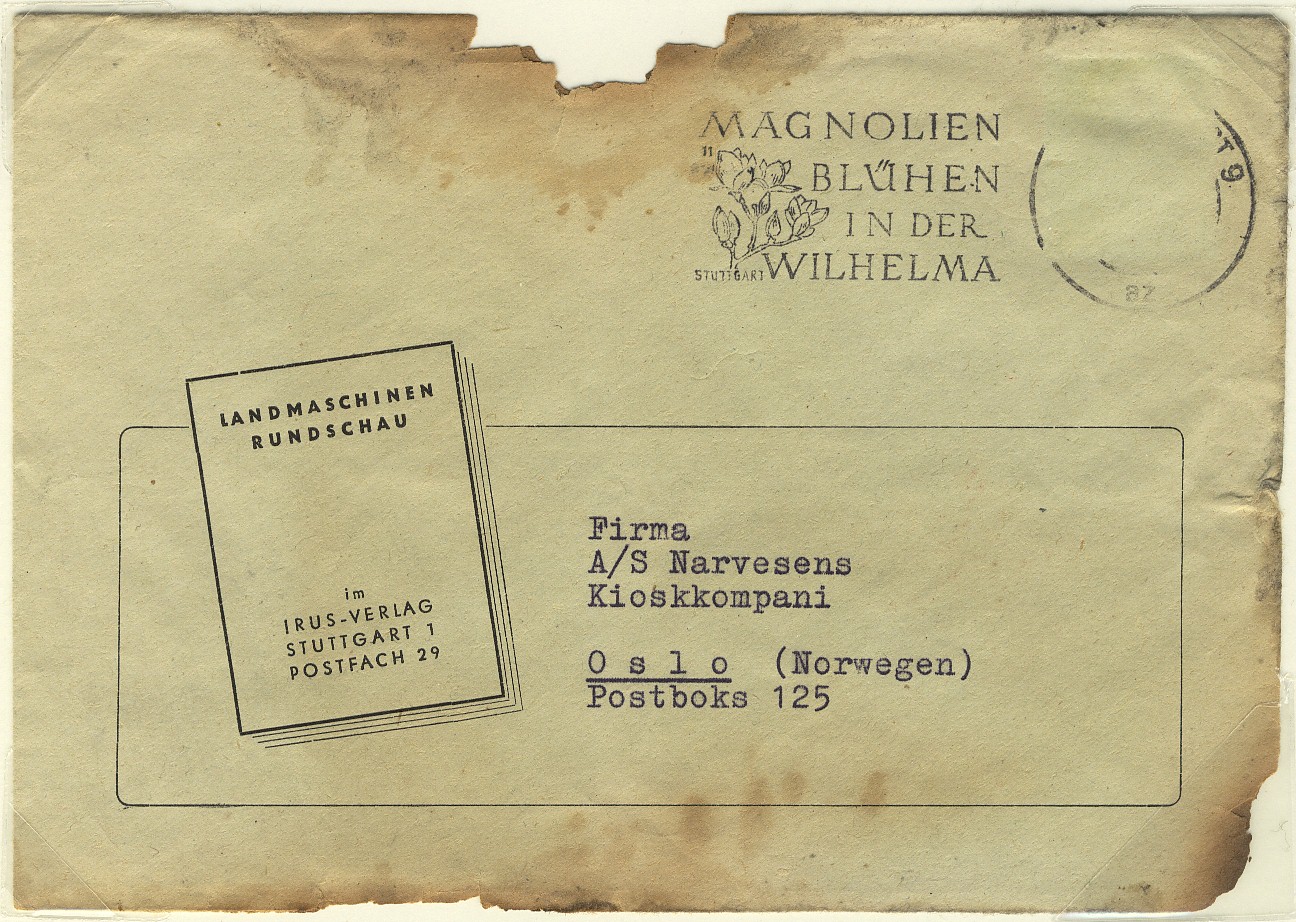 Gunnar Zetterman has now informed us that this cover is most probably from a train collision at Hanau, Germany. The Scandinavian express collided with a local train. He has a cover to Norway and a cover to Sweden from this wreck.
Cover from U.S.A. to Lyngby, Denmark. Postmarked "New York 1, N.Y. JUL 20
1956". The cover is creased/soiled, and the postage stamp is floated off.
Violet cachet: "DAMAGED IN HANDLING / IN THE POSTAL SERVICE".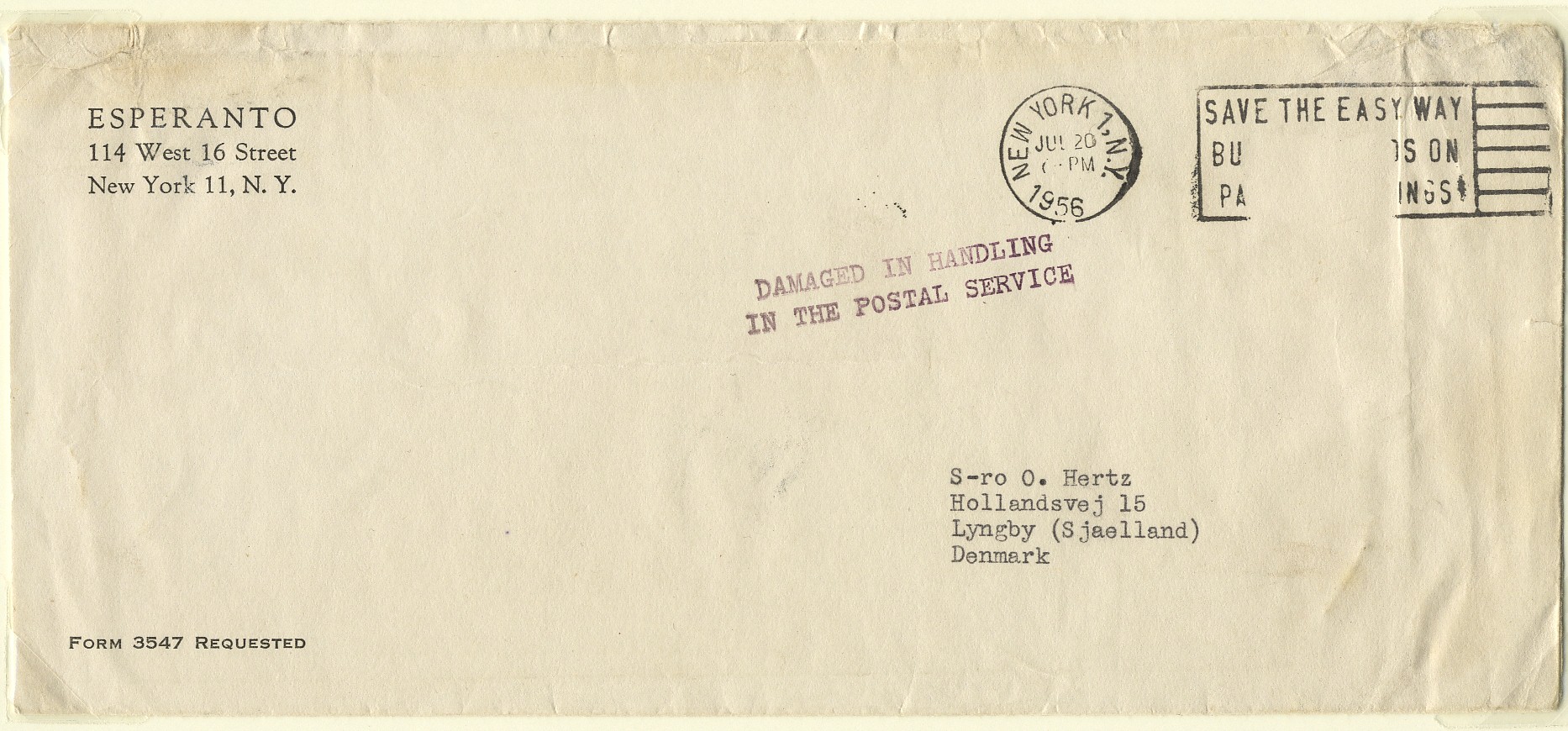 Air mail cover from U.S.A. to Ringsted, Denmark. Postmarked "FORT SILL, OKLA
AUG 27 1958". The cover has a 2 x 2 cm L-shaped tear (below the stamp), and
a violet cachet is applied: "DAMAGED IN HANDLING / IN THE POSTAL SERVICE".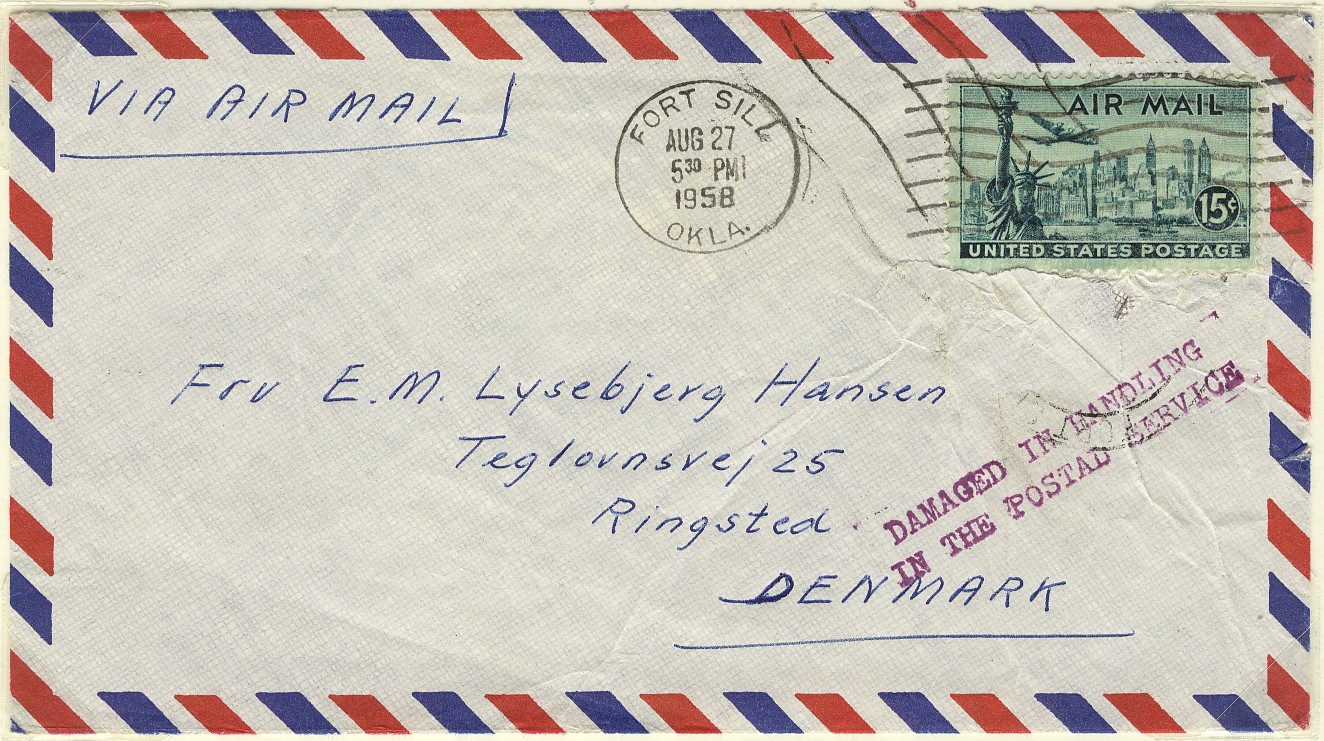 Registered printed matter from Brazil November 1948 to Copenhagen, Denmark.
Violet cachet "Indgaaet beskadiget / Vesterbro Postkontor / Afd. for ank.
Brevpost" (Arrived damaged / Vesterbro Post Office / Dept. for incoming
letters).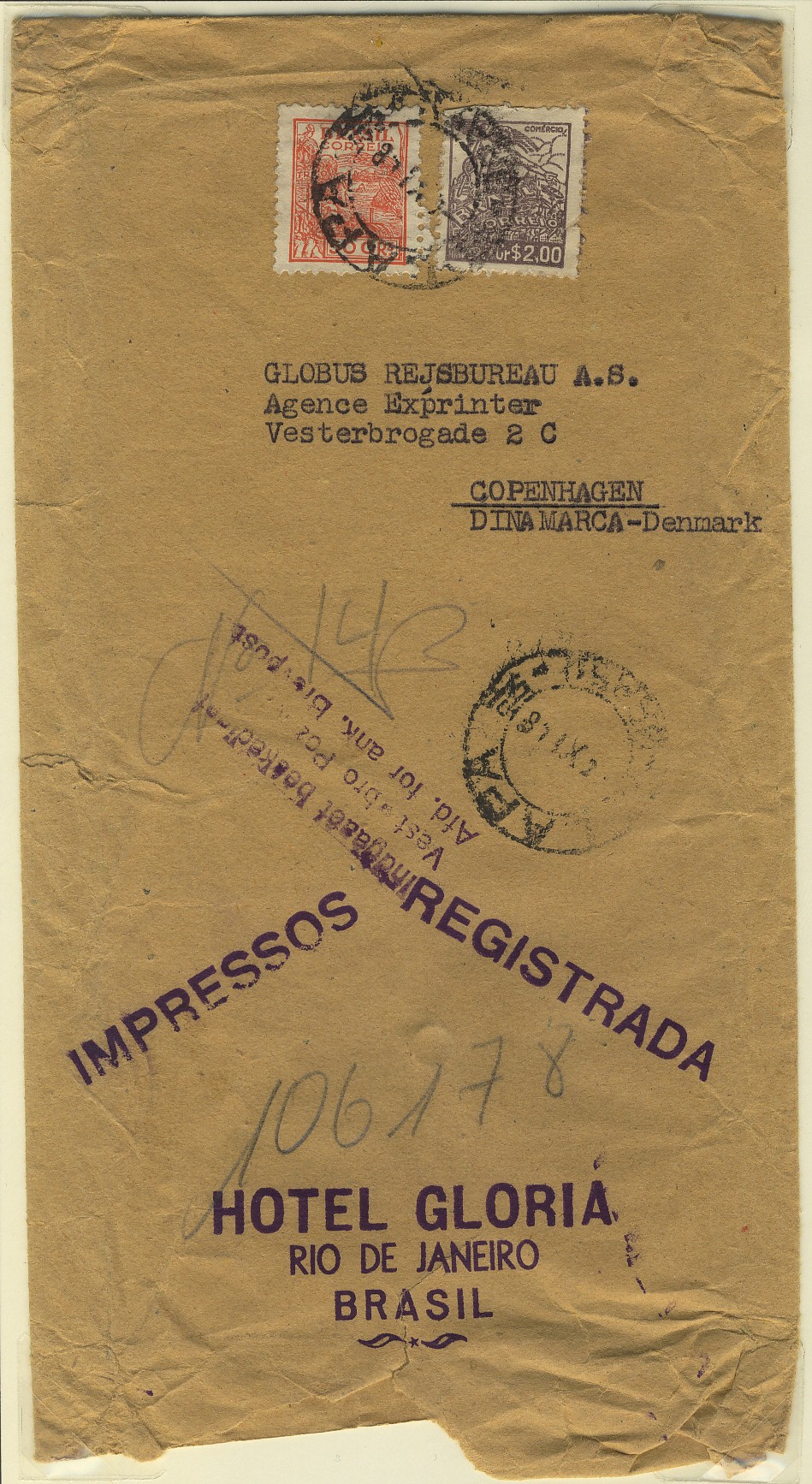 Letter from Stockholm, Sweden sent to Liverpool, England. Postmarked
"STOCKHOLM 1 AVG LBR 29. 4. 18". Boxed cachet "DAMAGED BY IMMERSION / IN SEA
WATER. – I.S.". British censorship and re-sealing strip "OPENED BY CENSOR.
5207".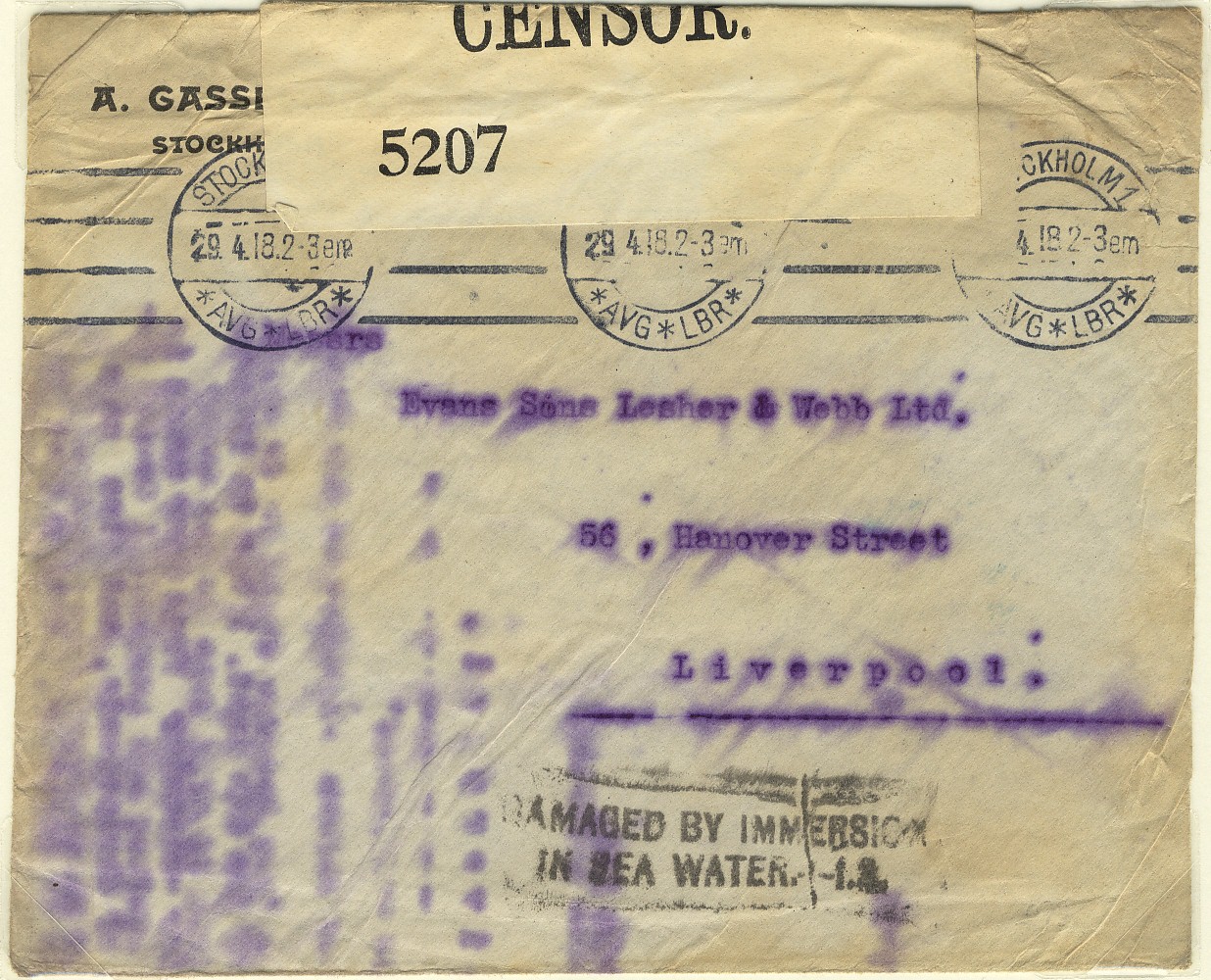 Air mail cover postmarked "KØBENHAVN 15.2.37" and sent to China. Boxed
cachet in black "Flight delayed" and red pen cross over the air mail label
which cancels the air mail service. On reverse postmark Canton (China) with
illegible date and "VICTORIA HONG KONG 4 MR 37".
Sent from "HERM ISLAND ? JN 1964" and "GUERNSEY 5 JNE 1964" to poste restante Kiruna via Stockholm, Sweden. Flown on the S.A.S. Midnight Sun
Flight from Stockholm to Kiruna "STOCKHOLM-KIRUNA-STOCKHOLM 13. 6. 64". On front Swedish one-line cachet "Retur avsändaren" (translates to "Return to sender"); the sender's address is in England and not Guernsey. The cover is somewhat soiled and it seems there have been several covers in a pile and that the covers (postage stamps) have been stuck to each other. The Return to sender cachet is blurred, and it is possible that the water damage therefore occurred after the cachet was applied.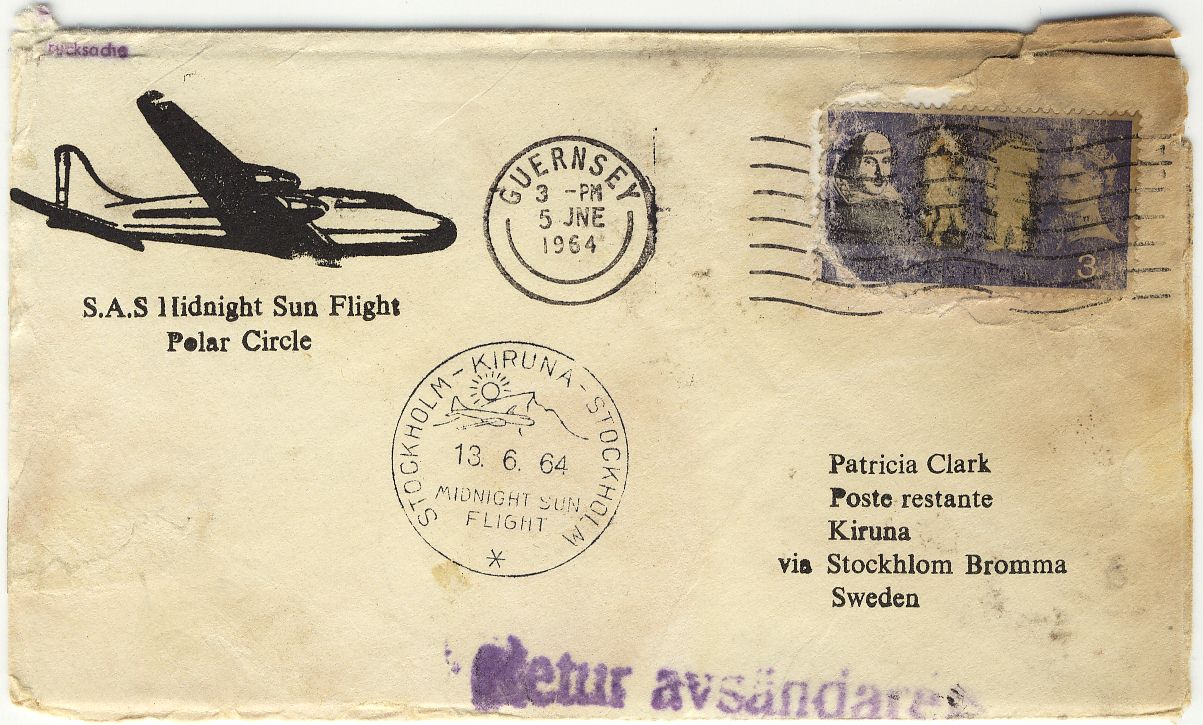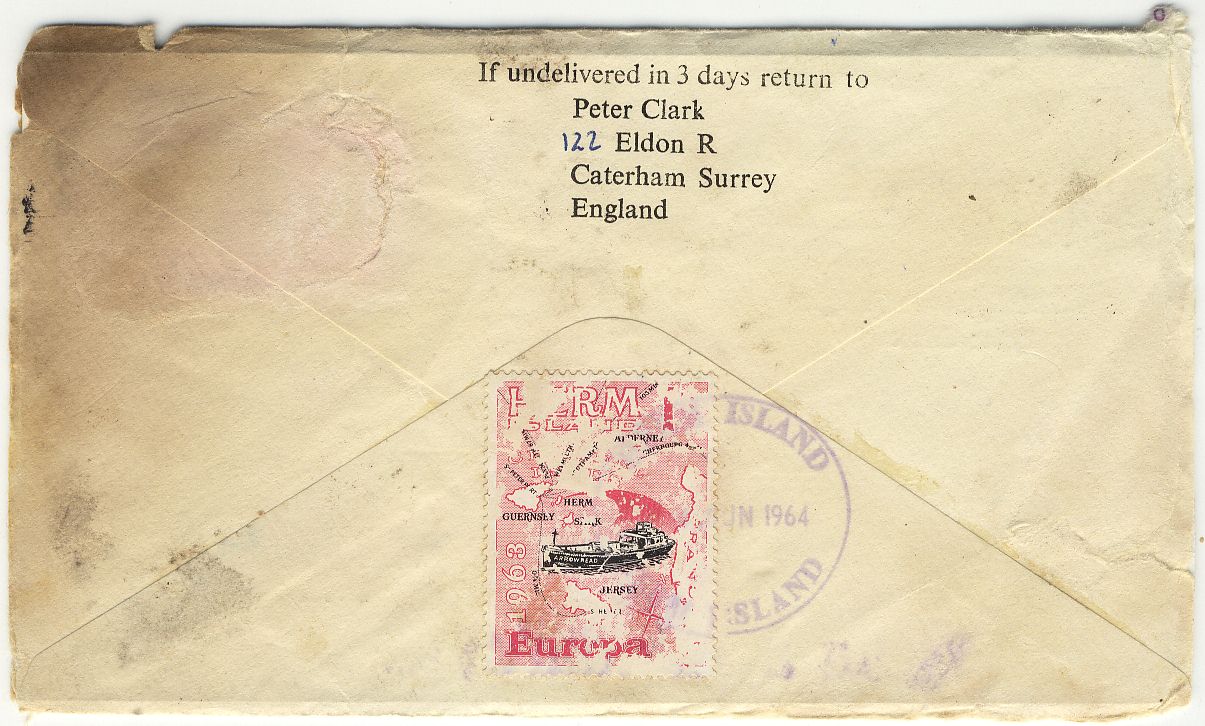 Printed matter from the Philippines to the Netherlands. The content is dated Conner, Kalinga-Apayao November 15, 1969.
The rather blurred postmark is possibly dated JAN 9, 1970, and the postmark place name is possibly Conner.
Single-line cachet "DAMAGED BY FIRE". Perhaps the nearly two months time lag from the contents date to the postmark date indicates that the fire incident occurred in the Philippines.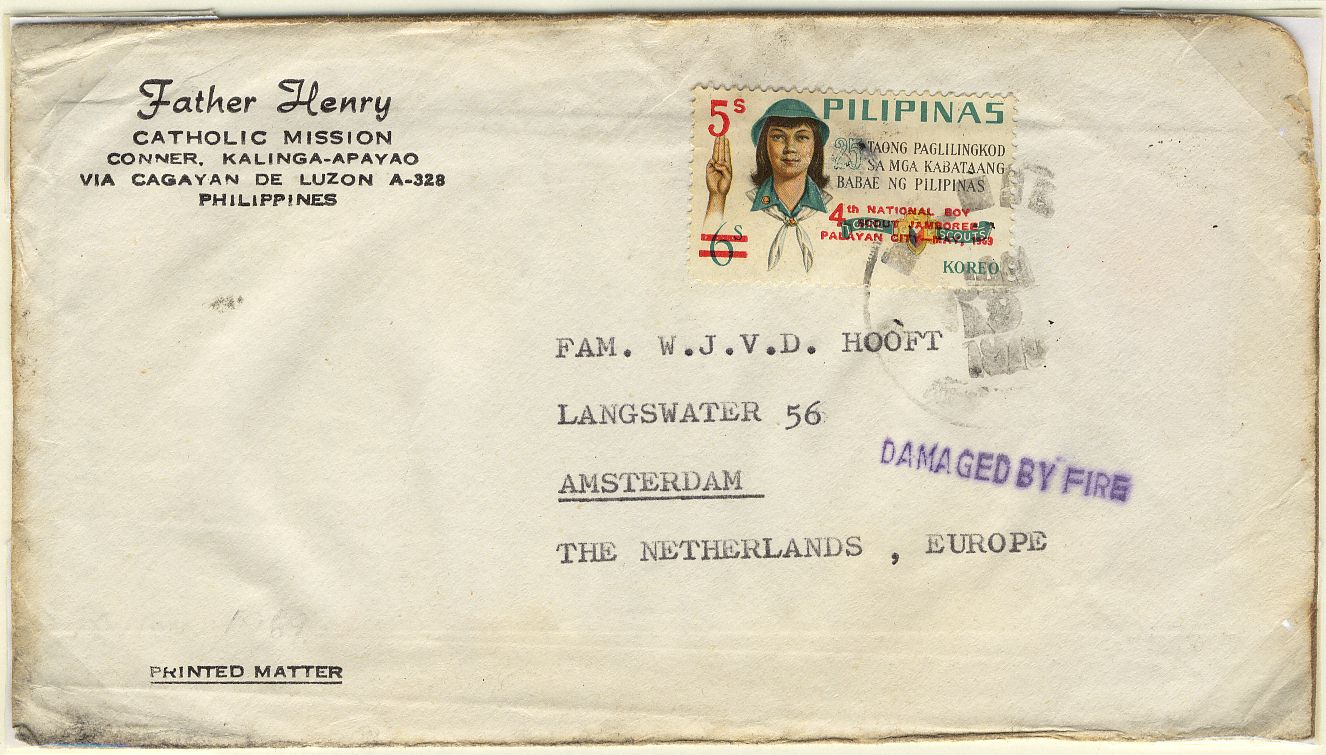 Wrapper, sent from the Ruwa Park Scout Jamboree, Rhodesia to Newport, Vic., Australia, postmarked "SCOUT JAMBOREE / RUWA, S. RHOD. 11 MAY 1959", on the last day of the Jamboree, which started on 4 May. Two-line cachet "DAMAGED BY / WATER" from unidentified incident.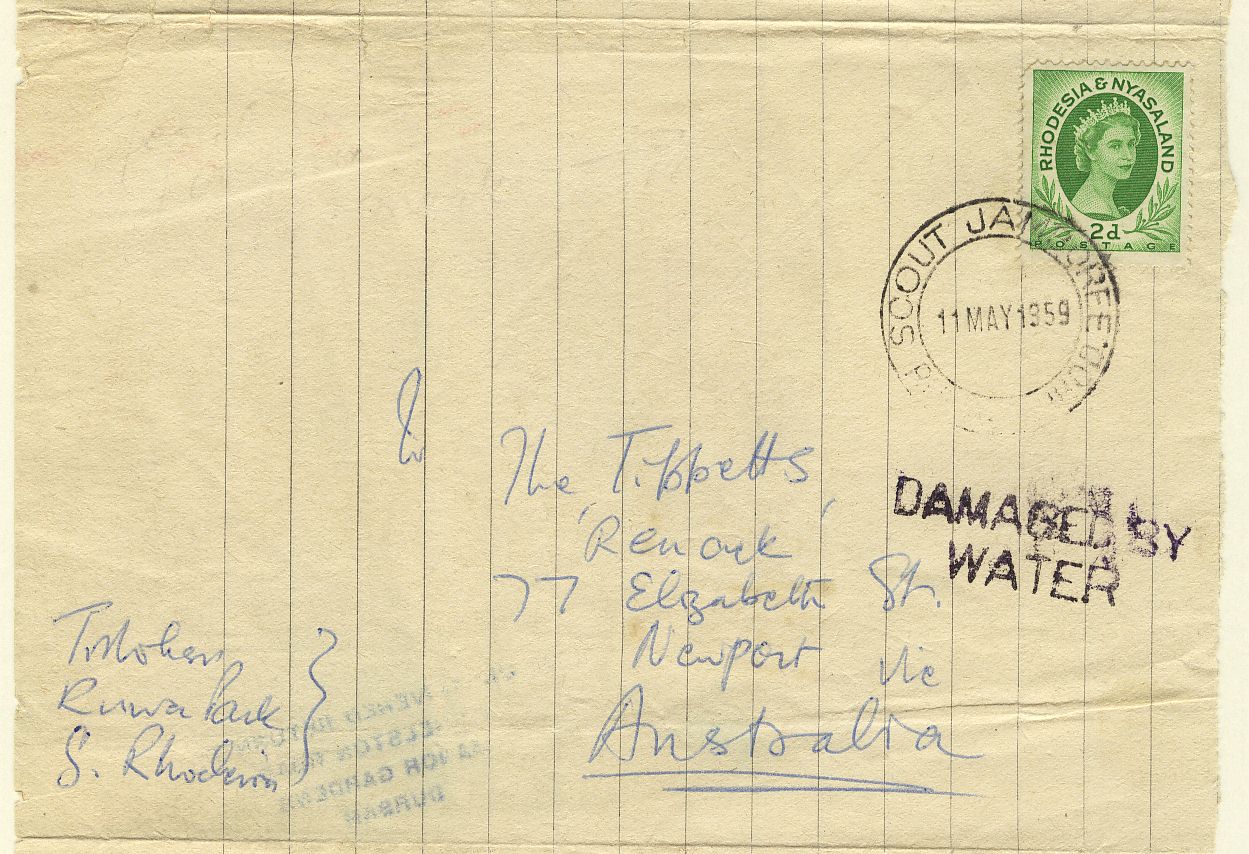 The following cover was sent in by Bill McMurray.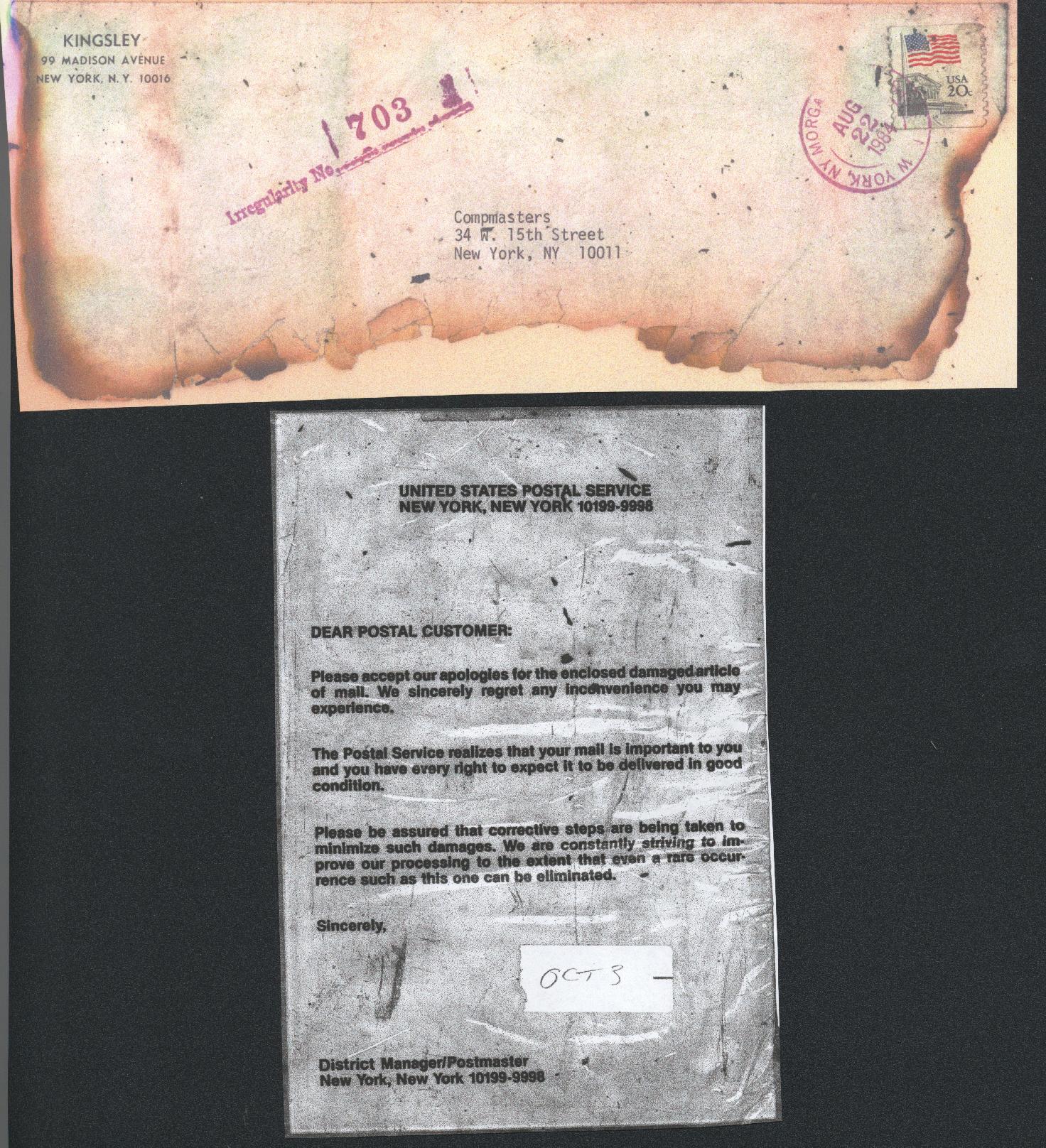 revised 9 March 2008